Praise to Maurizio Cattelan for "La Nona Ora," which sold for $3 million at auction last year.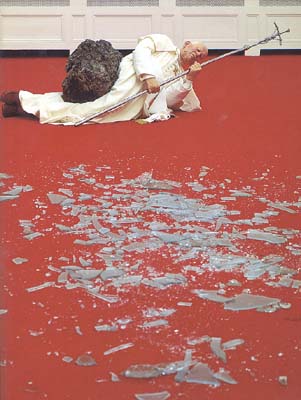 Praise to an even greater work of art, a reenactment of the final inning of Game 6 of the 1986 World Series (the Buckner error game) on the old RBI Baseball videogame, set to Vin Scully's original play-by-play. Three thoughts came to mind as I watched: (1) I had forgotten how many balls Mookie fouled off before dribbling that grounder to first; (2) too bad the artist couldn't have recreated Keith Hernandez smoking in the clubhouse after flying out to center; and (3) why do TV networks still to this day name the "[Brand] Player of Game" before the game's result has been determined?
Praise to the tasteful and intellgent fans of the Washington Nationals.
Praise to all-time Wesleyan University hits leader Jeffrey Maier, who will never, ever get work in the Baltimore Orioles organization.
Praise to Bellevue Community College for cracking down on institutional racism. Law #18 in the Staying Out of Hot Water Handbook: "Never mention watermelon."
Praise to the Raconteurs (Jack White's side project) for their awesome VAX-style website. (And praise to Sweet Pete for noticing.)
And, praise to you. Happy Easter, matzah fiends.